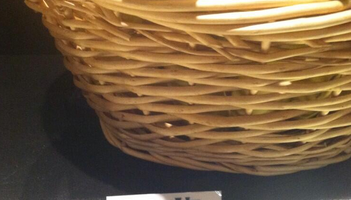 It's funny… on the night I tweet:

There's a slew of silly drama in the poker community. Let's not harbor it. #Ambassador
— Tristan Wade (@TristanCre8ive) July 2, 2014
I return to blogging. You probably heard about Daniel Colman, I am not going to give an interview or explanations. I'm here for a reason. The same way Colman was on his way to winning over FIFTEEN (15) MILLION DOLLARS in the $1,000,000 buy-in One Drop poker tournament. [One Drop is a great foundation that raises money to fight poverty worldwide by supporting access to water and raising awareness about drinking safe water. Look them up.] Throughout the event (and after the tournament was won) Colman apparently didn't want to give interviews on anything other than the charity. No self promotion, no winners speech, but he's a nice kid. I don't know what he actually did, how he acted, or what was said. What I do see is what the poker media is immediately saying about him.
The poker media isn't being assisted in something that is essential to their job. A champions interview! Who wouldn't want to give an interview after winning such a prestigious event?! Wait a second. What if it was the biggest tournament of the year, and it was going to be nationally televised, all SIX hours! What kind of message would you like to send on that platform, if you were in Daniel Colman's shoes? He is being portrayed as the villian, while Daniel Negreanu is being praised like a white knight savior. Negreanu is doing exactly what the media thinks every champion/poker player should do. He has reason to. Maybe this was all a ploy by PokerStars. If Daniel doesn't win, he will receive more publicity when Stars pays off the second place finisher to keep quiet and not do an interview. Brilliant move! The media fell for it! I'm sure ESPN will too!
People think Negreanu is a great ambassador for poker. I totally agree he is. But look where he stands in comparison. Mr. Negreanu is at the absolute peak of the commercial poker world. His involvement with PokerStars has put him in a position that few, if any, will reach. He has it ALL (when it comes to poker.) He has a good reason to be an ambassador. He gets paid for this role. He directly benefits from being a great ambassador, among the other things he's involved in.
Getting paid a poker sponsorship is rarely happening for poker players. What do you have to do to get to Daniel Negreanu status in the poker world? How many tournaments (in a row) do you have to win to get on a salary? Or a free tournament buyin? Maybe health care? Fine! We will settle for food comps. Wait, this banana costs $2.75!?! For ONE!?!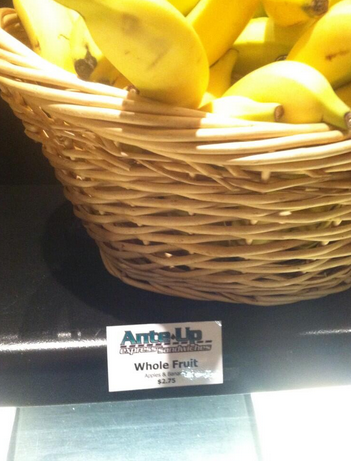 Things like this are what we deal with as poker players. This is just ONE issue. It's not easy being a professional poker player. Ask any of us. Although some definitely make it look easier than others.
In the One Drop event, $111,000 of the buy-in went to charity. The forty two poker players paid over $4.6 MILLION to charity. What did they get in return (besides the obvious charitable benefits and water bottles they received)? How much does the Rio/WSOP make throughout the series? What about ESPN off of the television broadcasts? A discounted weekend poker rate is $220 a night? SIGN ME UP! $30 for two eggs and toast in the morning? I'm out of comps!! Poker players are spending the money. What are the big businesses giving back to the community? Are they worth what we are paying them?
Without what has happened in the past, poker would not be where it is today. I understand that, and am thankful for it. Without doing something about the present, the future won't ever change either. The poker is an infant. It's new. It's changing. Take Black Friday three years ago. Before then, the majority of poker players STILL weren't making money off sponsorships or endorsements. Something needs to be done for the community and game to grow.
There's a reason why you see the same people sticking around. Grinding it out. We aren't stupid. We know how to find our edges. Calculate our equity. Access the situation. Pick our spots. Sometimes we even diversify for a more profitable, long-term return on our investment. There isn't any compensation for poker players from most of the people we do business with. They offer a service and we pay for it because we have to. After all, we're dealing with casinos. Casinos don't like to lose. Casinos only play with an edge, but that's a whole separate topic…
Poker media, back to you. I don't know why more wasn't immediately explained. You're trying to cover one of the biggest tournaments of the year. Deliver your best work. Let's talk about something that will help the industry grow. You guys are just as responsible for that. Why are intelligent poker players like Olivier Busquet and Haralabos Voulgaris sticking up for Daniel Colman in that situation? I imagine it to be a pretty good reason. The main point is: If Daniel Colman didn't want to do something, he shouldn't have to do it. Period. There were anonymous businessmen who played the event too. What if one of them won the tournament and didn't want to be in the spotlight for it.
There are bigger issues we should focus on in the poker industry. The whole community. It starts with the poker players, the customers. The media, venues, tours, poker sites, casinos. Everyone should share the same cause: bettering the industry as a whole so we all win. Or at least bettering yourself. That'll help too. Hopefully this situation highlights a hidden side to the promotion of poker, and what can be done on said platform. I think what happened is a positive thing. It applies pressure in spots that haven't been tested before… And I like it.
The WSOP Main Event is coming up… Excited for that one!